The AVLOK Pipe to Pipe 3-Valve Manifold is a general purpose design for connection system impulse lines and transmitters. This manifold consists of two block Valves and an equalizer valve.Connection are 1/2″ Female NPT on 2-1/8″ (54mm_ centres safety, an bonnet lock pin is standard.
 Connection : 1/2″ Female NPT to 1/2″ Female NPT.
 One-piece, high strength body construction for safety no welding used.
 316 stainless steel construction for superior corrosion resistance.
 Bonnet lock pin prevents accidental valve disassembly.
 2-1/8″ (54mm) Port centerline dimension for proper alignment.
 100% pressure tested for shut-off and at all seals.
 Manifolds feature at 4:1 safety factor.
NO.
COMPONENT
MATERIAL SPECIFICATION
1.
HANDLE
STAINLESS STEEL
2.
HANDLE PIN
STAINLESS STEEL
3.
SET SCREW
4.
LOCK NUT
STAINLESS STEEL
5.
PACKING BOLT
SS316
6.
PACKING SUPPORT
REINFORCED TFE
7.
PACKING
TFE/GRAFOIL
8.
BONNET
SS316
9a.
STEAM (NEEDLE TIP)
9b.
STEAM (PLUG TIP)
10.
SEAT (PLUG TIP)
DELRIN
11.
LOCK PLATE
STAINLESS STEEL
12.
CAP SCREW
13.
MANIFOLD BODY
SS316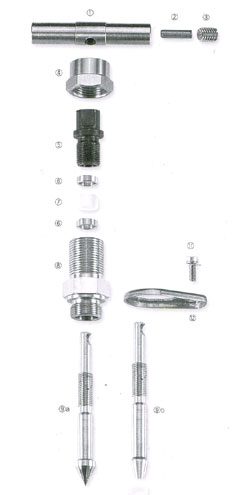 All Dimensions are for reference only, and are subject to change without prior notice. Sizes and types other than featured above are available on request.